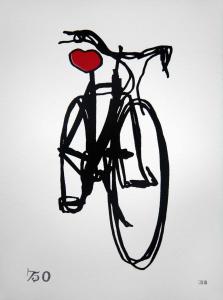 Jase's Bike with Heart is one of my most popular images.I've made it as prints and t shirts the drawing originally came from a pre painting study of the  bike.
Jase had commissioned a painting of his bike as he was deteriorating from ALS.
He was a great guy, it was a privledge to know him.
I wish ALS was curable.I was so moved by his grace, he is often in my thoughts.I sat on the drawing for a long time.  years later in the fall after my brother diedmy sisters and I texted alot. there were alot of hearts, broken hearts, and love for each other in a hard time.The image came back to me and I made the heartlike seat into a heart and made a print.the bike looks so sweet so roughIt felt to me like an homage to hope, hope though loss.to move forward...