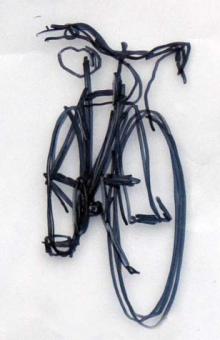 Jase had done serious cycling including a cross country ride. He was an actor and used his trusty Schwinn for transportation around NYC. He'd seen my work hanging at the City Bakery and contacted me. He was diagnosed with ALS and as it progressed his bike let him hang onto his mobility. He was able to ride when he could no longer walk easily. When I met him he had recently gotten an ebike and wanted a painting of his Schwinn. I was moved by what cycling meant to him and honored for the commission.
The blog he kept about his life during this time helped me feel close.
The image with the heart started as a sketch for his painting. I liked that the drawn bike looked battle worn, epic, a bit like that picasso don quixote.  I tucked that pic away for years. Then in the weeks after my brother died I pulled it out and finished the heart shaped seat. I needed the strength of that trusty Schwinn. Sturdy, strong, worn and well loved. Both happy and sad.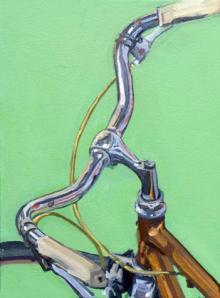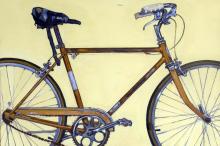 The image of the bike with the seat has been very popular.  It has so much meaning for me I hope it fills that place for someone else too.